Best Home Fertility Tests (2022 OTC Fertility Test Guide)

Medically reviewed by
Katerina Shkodzik, M.D., OB-GYN
Written by
Kelly Berry for Mira
Best home fertility tests
At home fertility test buying guide
Home fertility test FAQ
When it comes to trying for a baby, at home fertility tests are becoming increasingly popular for those that want answers as soon as possible. Over the past few years, numerous testing options have been commercialized and many couples find the options to be overwhelming: where do you start and how do you know which ones are with your time and money?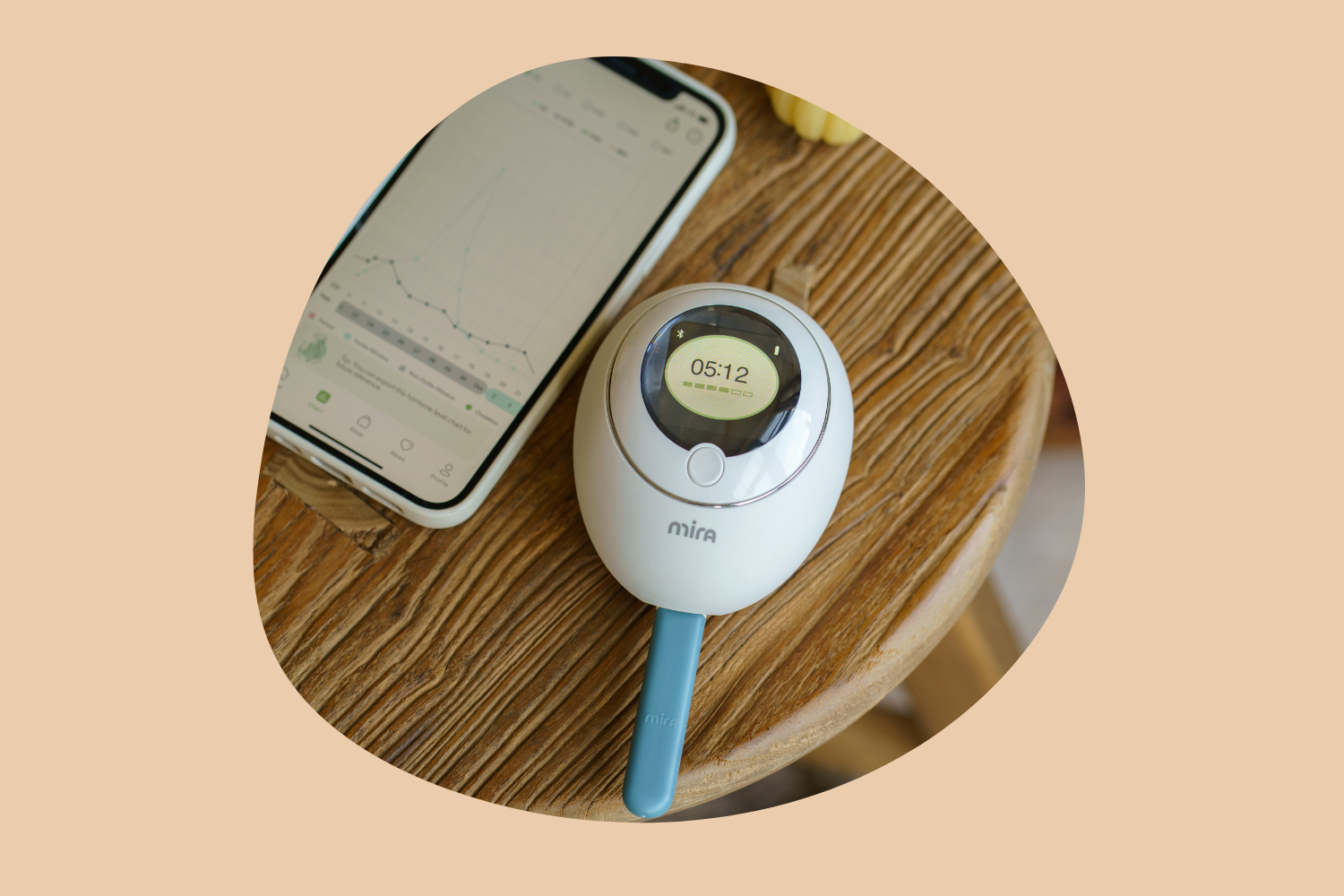 To help you make an informed decision about fertility testing at home, we've highlighted some of the most popular options for men and women. We've gone down the rabbit hole of research – sifting through reviews, ratings, and testimonials – to guide you through the ins and outs of choosing an otc fertility test so you don't have to. There have never been more options available to couples trying to conceive and we're here to help.
Read on to see our roundup of the best at home fertility tests!
The best home fertility tests
When it comes to tracking, pricing, and accuracy, the options may seem endless for home fertility tests. Every test is different and you'll want one with the options and information that will work for you and your goals.
To help guide your buying decision, we've rounded up 7 of the most popular home fertility tests for both men and women. For each test we've summarized what it does, what we loved about it (and what we didn't) and who it's for. Keep in mind we only looked at the testing itself and only you can make the right decision about this information for your personal fertility.
Mira
Combining the latest science and technology, Mira offers a digital fertility analyzer that allows women to track exact hormone levels at home. Using a handheld device paired with a smart health tracking app, Mira provides personalized and accurate ovulation analysis through lab-quality hormone tracking. The system uses urine samples to track luteinizing hormone, estrogen, and PdG to give you a clear idea of when you're ovulating and when you're most likely to conceive.
What we like
One of the best features of this tracker is that it measures exact hormone concentration levels rather than a range or 'smiley face' approach. By analyzing your quantitative hormone levels, you not only get accurate insights on your fertility, but also highly personalized ovulation prediction data.
And, by measuring exact hormone concentrations, it makes it suitable for women with irregular cycles. While Mira can definitely be used by people hoping to become pregnant, we also liked that it can be useful for anyone who menstruates who wants to track their hormones for other reasons like sleep quality, mental health, or mood.
What they can improve
While the Mira system is on the pricier side of things when it comes to fertility monitoring, many times this can be offset by health insurance or a health savings account and may be eligible for reimbursement. The cost of the testing wands can add up but the device itself can save you time and money compared to traditional fertility testing.
Who it's for
This device is useful for anyone who menstruates and is looking to track their hormones at home with lab-grade accuracy. Because it measures exact hormone concentrations, it's especially useful for people with hormone imbalances or irregular menstrual cycles.
Modern Fertility
Developed as a more accessible alternative to learning about fertility, the Modern Fertility test measures fertility hormones to help women understand more about their general reproductive health. Although this is a home test kit, you can also opt to take your test at a local lab as well since this test requires a blood sample.
The test analyzes eight hormones (two if you're on birth control) that are critical to reproductive health and then produces a report on your fertility outlook. More than just ovulation prediction, this test aims to give you an idea of your ovarian reserve, when you're likely to reach menopause, and the overall status of fertility-affecting hormones.
What we like
The test itself is easy to use and any questions can be answered by the wealth of online information and tutorials available. This is perhaps one of the biggest benefits of this test; Modern Fertility's emphasis is on your fertility health overall, and through their online educational events and forums they really foster a sense of community. Giving you a place to connect and learn from others on the same journey can be an invaluable resource when it comes to fertility.
What they can improve
While this test is a great place to start, and can give you good information about your hormone health, it only provides a one time snapshot. The results can help you discover fertility red flags or develop a plan going forward, but it offers little in the way of ongoing evaluation or monitoring your fertility status. Not to mention that for women on hormonal birth control, the scope of the test is limited to two hormones, which many users were unaware of before purchasing and found frustrating.
Who it's for
This option is a great home test to see if you can get pregnant and do a proactive check on your fertility status and outlook. While no test can tell you if you're infertile or not, Modern Fertility's test helps those curious about their reproductive chances understand the factors surrounding their reproductive health. This test is a great start for anyone looking to paint a picture of what might impact your fertility so you can think through your options.
Everlywell
Developed after being featured on the TV show "Shark Tank", Everylywell's women's fertility test is a blood test that measures five key hormones involved in female fertility. Once you've taken the test and mailed your sample to the lab you'll be able to see your results online (which can be easily shared with your doctor).
What we like
This test is a less expensive alternative than others on this list and you can save even more with a subscription for regular testing. The company offers high levels of information security for your data and the prepaid shipping labels are especially helpful.
What they can improve
The broad range of tests offered by this company mean that their focus is not solely on fertility or women's health. Results were only offered in an online format, and no support or follow-up is offered. Despite following instructions, many users also report receiving abnormal results and having to retest.
Who it's for
This test is best for those looking for a general snapshot of their fertility health or those that want online results quickly since results are available as fast as 1-2 business days.
Dadi
This male fertility test measures several factors related to a man's overall fertility level through sperm collection. Count, concentration, volume, motility, and make-up of your sperm are all tested and detailed information on each factor is provided in a report.
What we like
The quick turnaround time on this test can't be beat. Results are available in roughly 24 hours and you can even purchase additional services like a nurse diagnostic to go over the results with you and discuss your outlook. Dadi also offers free sperm storage for up to a year with fertility testing and customized packages with free shipping.
What they can improve
Many users of this test have found the company's customer support lacking. Their focus is more on storage rather than providing fertility information.
Who it's for
Dadi offers an economical alternative to expensive sperm bank storage fees and is a great option for men looking for a personal and private experience.
Ava
This wearable ovulation track comes in the form of a bracelet you wear at night to track key physiological indicators the company believes factor into predicting ovulation. While you sleep, it monitors your skin temperature, physiological stress levels (heart and breath rate), resting pulse rate, and overall sleep quality. In the morning, the information is synced to your phone and is used to help make predictions about when you will ovulate.
What we like
Unlike other tests, there are no bodily fluids involved with this one so it's perfect for those who are squeamish about blood or don't want to handle their urine. It offers a non-invasive way to follow your fertility and can act as a pregnancy tracker once you conceive.
What they can improve
Because this option only measures certain physiological factors related to your fertility, many users report inaccurate predictions and find it hard to plan around the uncertainty. Reports of poor battery life and customer support were also common.
Who it's for
This fertility bracelet is perfect for anyone looking to track physiological factors related to their fertility and are hesitant to use bodily fluids. Many people are sensitive or uncomfortable around blood or other fluids and this bracelet offers them an alternative.
PREGMATE
PREGMATE is a popular option that offers an ovulation tracking kit that uses traditional test strips dipped in urine to test your LH levels in order to predict ovulation. A positive result on the test indicates ovulation is around the corner.
What we like
These tests are widely available both online and in stores and are a popular and economical alternative to more expensive options. They also offer multi-packs and kits with pregnancy strip tests to cover all of your needs in one affordable option.
What they can improve
Like all ovulation predictor kits, there are circumstances where the results of your test may be unreliable and results can sometimes be confusing. Difficult to read or faint lines mean you could get a false positive and you may begin to question their accuracy.
Who it's for
This test is best for women who are looking for an affordable option to predict ovulation and don't mind using urine based test strips. They may not be as reliable for those with unpredictable periods or longer than average cycle lengths.
Tempdrop
Tempdrop is a wearable fertility tracking sensor, combined with a charting app, that records your basal body temperature while you sleep. Using this information, the sensor predicts ovulation based on the basal body temperature method, a natural fertility planning method that has been around since the 1930's. The accompanying app also offers you the ability to track multiple fertility signs and even identifies your cycle phases to help you accurately pinpoint your fertile window.
What we like
Unlike the accuracy needed with traditional BBT methods that requires a specialized thermometer and consistent timing, Tempdrop continuously monitors your basal body temperature while you sleep and eliminates the need to wake up at the same time each day or buy a specialized thermometer.
What they can improve
While this is easier than the traditional BBT method with a specialized thermometer, the sensor itself can be uncomfortable and difficult to wear while sleeping. Many women reported issues with the tracking app and found it unhelpful because it didn't interpret the data.
Who it's for
This option is best for women looking for a natural family planning method to predict ovulation, but are unwilling or unable to follow the traditional BBT method.
At Home fertility test buying guide
No matter which fertility test you choose, there are a few things to consider when choosing which test is right for you. To help with the process, we've compiled a list of the features you might want to consider when comparing options.
Digital vs Analog
Even though both digital and analog testing methods may show the same results, the delivery can be very different. Some digital readouts may be nothing more than a small computer strip built into the test that shows results on a digital display while others may be more advanced.
On the other hand, traditional testing strips are prone to error and misinterpretation which makes them affordable but not always reliable.
App or no app?
There are a plethora of fertility tracker apps available but unless you are marrying that information with physical data (like specific hormone concentration levels), they will only provide you with fertility estimations. Some fertility tests offer AI to accurately predict your fertile window and learn your menstrual cycle while others only allow user inputs. Apps can be helpful beyond prediction, though, and many offer education and a community that can be especially important during this time.
Affordability
Fertility testing can be expensive and testing regularly can add up. The variety of tests available means that they range greatly in price. While they can be helpful to use as a starting point and may be more affordable than getting tests done at a doctor's office, they shouldn't be used as a substitute for medical advice. Ultimately affordability is a personal decision and factors such as health insurance may come into play. Many tests are now covered by insurance policies or flexible healthcare spending accounts for reimbursement.
Reliability
Almost every test on the market will offer promises of accuracy. It's important to note that such claims are often based on laboratory tests and might not be reliable for everyone. Furthermore, accuracy is subject to human error and using the test exactly how it is indicated will increase your chances of reliability.
Reputation
Finally, when making a buying decision it's important to consider the reputation of both the company and the test itself. Tests bought from disreputable online sources or from overseas may not be subject to the same standards as your own country and there is no guarantee it will work at all. Companies that use evidence-based testing as well as those that rely on input from a team of medical experts to guide them are a safe bet when considering reputation.
Home fertility test FAQs
How do home fertility tests work?
Similar to testing done in a lab or doctor's office, at home fertility testing for women requires that you provide a sample of blood, saliva, or urine.  The finger prick method is usually all that's required for a blood test, while swabs or test strips will be used for other fluids.  
For men, you simply collect your sperm sample at home in the container provided and return to the lab.  Depending on the test, the results are either available online or through another delivery method like a smart app.  
What do home fertility tests cost?
Costs for home fertility tests range between $100 and $200 for the initial kit.  Some tests required additional equipment like replacement wands for ongoing testing, but these are much less than what the original test kit would cost.  
When should you take a fertility test?
Every test is different and will include specific instructions.  For urine based tests, it is usually best to take them in the morning when urine is more concentrated for the most accurate results.  
In terms of when you should investigate fertility testing, most healthcare professionals recommend trying to conceive for at least a year before investigating possible issues.  If you've been having unprotected sex on a regular basis for at least twelve months (six if you're over 35) but haven't been able to conceive it might be time to check with your doctor.  
When should you have sex after a positive fertility test?
The most fertile time in your cycle is the day of your LH surge and 1-2 days after.  By monitoring and tracking your own personal LH levels you can pinpoint your exact day of ovulation and plan sex accordingly.  A positive fertility test indicates you are at the height of your fertile window so if your test is positive you should aim to have sex at least once within the next two days.       
When should I take a pregnancy test?
It can be tempting to take a pregnancy test right away when you are trying for a baby, but testing too early can lead to inaccurate results.  Ideally you should wait until the first day of your next expected period to take a pregnancy test or no earlier than 12 days past ovulation (DPO).  
Can a fertility test detect pregnancy?
Fertility tests are not meant to detect pregnancy and should not be used as a substitute for pregnancy tests.  Fertility or ovulation tests are not as sensitive as pregnancy tests, and are designed to measure different things.  
Are fertility tests worth it?
Only you can answer this question based on your unique circumstances.  For those trying to conceive, they can be a helpful way to get more information and give you a starting point for discussions with your doctor.  
However, fertility is complicated and at home tests can only tell you so much.  There are many factors associated with fertility and at home fertility tests can be a great first step in your fertility journey and an empowering way to learn more about your body.   
Winding down
While at-home fertility tests can give you access to more information, it's important to note they are not a replacement for working with your healthcare provider and can only take you so far on your TTC journey. Choosing the best at home fertility test ultimately comes down to what works for you and fits your lifestyle and budget the best. There is no "one size fits all" when it comes to fertility testing and only you and your doctor can decide what is best in your situation.